2017 Subaru Forester Named AJAC's Best New Small Utility
Blog
Dec 6th, 2016
(MISSISSAUGA) — Subaru Canada, Inc. (SCI) is pleased to announce that the all-new 2017 Forester received the honour of being named AJAC's (Automobile Journalists Association of Canada) Best New Small Utility.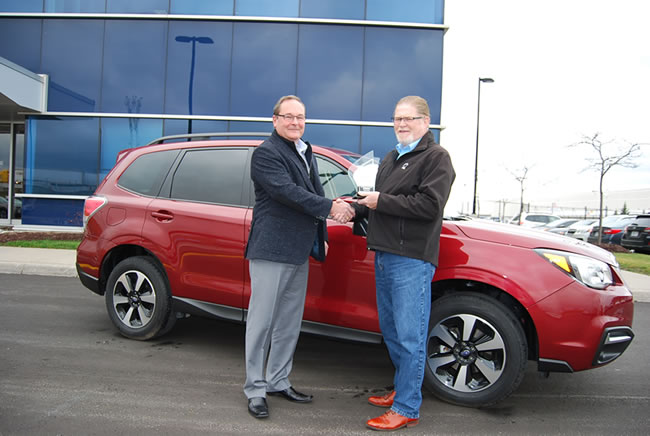 2017 Subaru Forester- Best New Small Utility
The brand new 2017 Forester, with its unbeatable combination of all-road/all-weather capability, superior reliability and advanced safety features, will now go on to compete for overall Canadian Utility Vehicle of the Year honours. The winners will be announced at the Canadian International Auto Show, held in Toronto in mid-February.
The rigorous testing program put on by AJAC includes real-world driving on public roads by over 60 of Canada's best-known automotive journalists. Each category is tested back-to-back on the same day, under the same conditions, to ensure fair and objective comparisons, all with the goal of providing highly-relevant consumer-driven information for Canadian shoppers to take with them to the marketplace.
"I'm so very proud of our highly awarded 2017 Forester," said Shiro Ohta, chairman, president and CEO of Subaru Canada, Inc. "Ever since it was introduced to dealerships earlier this year, the Forester has been breaking sales records. I know that the AJAC award will help more Canadian consumers realize that the Forester is an excellent choice for exceptional value and sheer driving enjoyment."
With recent AJAC awards that recognized the 2015 Legacy as the Canadian Car of the Year and the 2015 Outback as Best New SUV / CUV (under $35k), both experts and consumers agree that Subaru vehicles deliver an inspired combination of safety, performance and dependability.
About Subaru Canada, Inc. Subaru Canada, Inc. is a wholly owned subsidiary of Fuji Heavy Industries Ltd. of Japan. Headquartered in Mississauga, Ontario, the company markets and distributes Subaru vehicles, parts and accessories through a network of 92 authorized dealers across Canada. For more information, please visit www.subaru.ca or www.pr.subaru.ca or follow @Subaru_Canada on Twitter.