Already a standout performer, the Subaru Forester has been redesigned inside and out to put even more distance between itself and the competition. This compact SUV offers an unbeatable combination of all-road/all-weather capability, superior reliability, advanced safety features, exceptional value and sheer driving enjoyment.
WHERE WERE YOU IN 1986?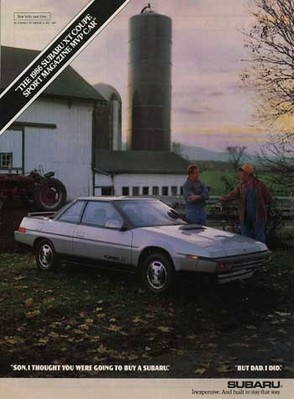 WHERE WERE YOU IN 1985?
WHERE WERE YOU IN 1985?
WHERE WERE YOU IN 1984?
WHERE WERE YOU IN 1983?
WHERE WERE YOU IN 1980?
Achieving Balance
How to achieve the ideal balance in an AWD vehicle?
Start with a horizontally-opposed (Boxer) engine—its flat profile lowers the vehicle's centre of gravity for better stability, and its "torquey" nature is well-suited to the kind of driving conditions where AWD shines.
Make a Boxer engine that is compact and lightweight, attach it directly to a compact, lightweight transmission and incorporate that with a compact, lightweight centre differential.
Then, mount the entire engine/transmission/centre differential package longitudinally on the vehicle's centre line for ideal left/right balance and improved driveline efficiency.
And balance it over the front axle, making the vehicle less nose-heavy—this reduces nose-dive under heavy braking and reduces yaw, the tendency of the vehicle to spin.
Finally, take advantage of the centred layout of the driveline by adding long-travel suspension to maximize tire contact with the road in a wide variety of driving conditions. This also allows equal-length axle shafts at front and rear to reduce torque steer.
There is, of course, much more to it than this. But these five simple points are what make Subaru's approach to All-Wheel Drive unique.
While other manufacturers add All-Wheel capability to existing 2WD designs, Subaru started from scratch to design a total system whose every component supports AWD and contributes to the overall safety of the vehicle. A system where the whole is greater than the sum of its parts because of its near-perfect symmetry and optimum traction.
The result is a simpler, more efficiently balanced design that is hailed as one of the best All-Wheel Drive systems available.